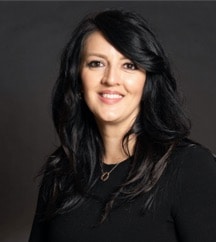 Tijana (Tina) Skrepnik
MD
Dr. Skrepnik earned her Bachelor of Art and Bachelor of Science Degrees from The University of Arizona. She completed her medical degree and residency in Radiation Oncology at The University of Arizona. Dr. Skrepnik has written for multiple peer-reviewed publications, research articles, and book chapters on various topics including lung, breast, endometrial and ovarian cancer, and she has presented at national meetings on the topics of palliative radiation and radio-immunotherapy.
Dr. Skrepnik is certified by the American Board of Radiology. She has a special interest in metastatic melanoma in the brain treated with stereotactic radiosurgery and immunotherapy. She is a native Tucsonan and joined Center for Neurosciences in 2018.
Specialty: Radiation Oncology
Special Areas of Expertise: Image Guided Radiation Therapy, Intensity Modulated Radiation Therapy, Stereotactic Radiosurgery