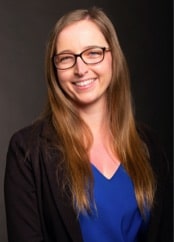 Alissa Knickerbocker
Au.D., CCC-A FAAA
Dr. Knickerbocker earned her Bachelor of Science in Speech and Hearing Science from Arizona State University in 2017 and her Doctor of Audiology from Arizona State University in 2021. She completed her doctoral externship at Center for Neurosciences and joined the group upon completion.
Dr. Knickerbocker is a certified member of the American Speech Language & Hearing Association and a Fellow of the American Academy of Audiology. She provides diagnostic hearing evaluations, tinnitus evaluations, vestibular evaluations, electrophysiologic testing, hearing aid fittings, bone anchored hearing devices, and cochlear implant services for all ages.